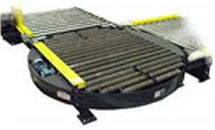 Rotates Products up to 360
Standard Speed: 30 FPM
3 RPM
Proximity Switches sense position and control product rotation
Variable speed control
The 26 CRPT is used to rotate products up to 360 degrees. The turntable is powered by a shaft mounted gearmotor complete with variable speed controller for soft start/stop and has proximity switches mounted on base to sense position and control rotation of product. Turntable speed is 3 Revolutions per minute with a 1 HP 460/3/60 gearmotor. An 8-wire collector ring allows unlimited roation of turntable. Powered transition rollers, mounted on apron of turntable deck, help move product onto and off of turntable. The 26 CRR section has a Top Side Mounted Drive contained within the turning radius of the turntable.Standard speed is 30 GPM with 1/2 HP 460/3/60 gearmotor. The tread rollers are 2-5/8 in. diameter with 7 gauge wall on 4 inch roller centers and have 2-5/8 in. dia. x .219 wall drive rollers with heavy duty bearings. Also available; gravity transition rollers; external transition roller sections (mounted to mating conveyors in fill in gap created by radius of turntable). Minimum Elevation - 16 inches.