Wildeck Mezzanines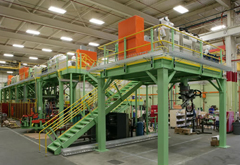 Wildeck® structural steel mezzanines are your best solution to fully utilize existing overhead space so you can operate more efficiently and profitably. You can gain valuable working, office, storage, or manufacturing areas at a fraction of the cost of new construction and often with a significant tax depreciation advantage. Wildeck can help you put this space to work fast, with minimal interruption to your working floor area.
Quality Wildeck mezzanines meet stringent industry standards and specified national, state, and local codes and are specifically designed to meet your size, load and span requirements. Our expertise and extensive manufacturing capability ensures that you receive more value today and for years to come.
Designed for Heavy Duty Use
Wildeck engineers are mezzanine design specialists with industry and application experience that's second-to-none. Whether you need a standard or custom mezzanine, it will be designed by the best engineering team in the industry and provide the most cost-effective structure based on your load, size, span, and height requirements.
Wildeck mezzanine system advantages:
Quality manufactured to your specification requirements
Designed for easy, fast assembly
Specially engineered steel components quickly bolt together to form a strong and secure unitized structure
Heavy-duty 5" x 5" x 3/16" thick columns are a standard minimum (larger sizes available), along with
12" x 12" x 3/4" thick baseplates, providing rigid support while eliminating obstructing bracing
Applications
Wildeck mezzanines can be installed in new or existing facilities and can add valuable space for manufacturing, material processing, or storage. They are customized for each application and designed to meet specified codes and OSHA safety requirements. Adding a mezzanine to an existing facility does not require the acquisition of new land and existing facility HVAC (heating, ventilating, and air-conditioning) systems may not require expansion. Wildeck mezzanines use secure bolt-together connections, and can be dismantled and relocated. They qualify for accelerated 7-year capital equipment depreciation, as opposed to the 39 years normally associated with permanent building improvements. A quality Wildeck mezzanine is the right decision to help your business grow, and it gives you the flexibility you need to respond to market changes.
Storage
Manufacturing
Garment Rail
Health Clubs
Warehousing
Robotics
Tool Cribs
Locker Rooms
Cat Walks
Access
Order Picking
Clean Rooms
Office Space
Sortation
Viewing
Dust Covers
Retail Back Rooms
Conveyor Support
Lunch / Break Rooms
Recycling
Equipment Platforms
Security Enclosures
Distribution Centers
Shipping / Receiving